The Roller Skating Federation of India (INDIA SKATE) registered in 1955, Permanent Head office A695 Shastri Nagar New Delhi India, is affiliated with World Skate (World Parent body of Roller Skating) since 1971. R.S.F.I is founder member of the Asian body World Skate Asia(In 1978).Roller Skating Federation of India was accorded recognition by the Government of India since September 1990 followed by recognition by the Indian Olympic Association.
RSFI has so far conducted 59 National Championships in all age groups & disciplines. National Championships are conducted for age groups, Cadet, Sub Juniors, Juniors , Seniors & Masters (Men & Women) for disciplines i.e. Skateboarding, Artistic Skating, Speed Skating, Inline Freestyle, Roller Freestyle, Roller Hockey, Inline Hockey, Inline Downhill, Inline Alpine, Roller Derby & Roller Scooter, Skate cross.
Roller Skating is a part of All India University Games, SGFI Nationals, CBSE Nationals, KV Nationals and ICSE Nationals.
Indian Team is overall 2nd in Asia. Meanwhile Roller Skating was included in the 1992 Olympic Games as a demonstration event and as a medal event in the 42nd National Games held in Andhra Pradesh in 2002 and as a medal event in the 16th Asian Games 2010 in Guangzhou, 3rd beach Asian Games 2012 in China, World University Games 2017 in Taiwan, 18th Asian games 2018 held at Indonesia and Youth Olympic Games 2018 at Argentina, 2020 Olympic Games & also in 2024 Olympic Games.
Certificate of Registration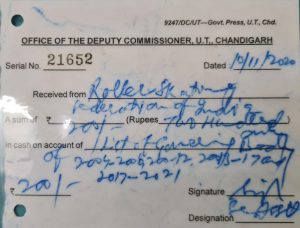 RSFI Secretariat
A 695, Shastri Nagar,
New Delhi -110052,
INDIA.
Tel : +91 11 2364 7788
Email : rsfi@indiaskate.com